Actualités – MV CLANCY
A propos du livre « Dans la peau d'un psy »
Vous n'avez pas de divan ?
Je ne sais pas trop ce que je dois dire…
J'avais peur avant de venir. J'ai hésité longtemps.
C'est vous qui commencez ou c'est moi ? Comment fait-on d'habitude ?
Vais-je devoir parler de mon passé ?
Le psy que j'ai vu ne parlait pas du tout. Et vous, quelle est votre méthode ?
Vous n'en avez pas marre d'écouter tout le monde ?
Je me demande ce que vous écrivez sur votre calepin ?
Combien de temps faut-il pour que ça change ?
Vous croyez que ça peut se guérir ?
Autant de questions auxquelles j'ai eu envie de vous répondre. Comment se déroule une séance de psychothérapie ? Que fait-on pendant la séance ? Que dit-on ? Que partage-t-on ?
Et le psy lui, que fait-il ? Quel genre de soin apporte-t-il ? Comment s'y prend-il ? A quoi pense-t-il ? Que se passe-t-il dans la peau de ce psy que vous venez consulter ?
Présentation du livre suivie d'un entretien avec l'auteur
Où se procurer l'ouvrage ?
Ce que les lecteurs en pensent
Commentaire Amazon, Coco Bimao *****
« Dans cette relation humaine unilatérale et cadrée, partager pendant la lecture de ce livre ce que ressent l'écoutant est intéressant. Un livre que je conseille si un jour vous vous demandez ce qui se passe chez votre psy…. la psy est touchante tout comme ses patients !! Agréable à lire. »
Commentaire Amazon, Dapaul *****
« recit déroutant, comme si l'auteur nous donnait l'occasion de passer de l'autre côté du miroir en séance…
je vous le conseille vivement »
Commentaire FNAC, mimi13 *****
« super livre! je suis ravie de mon achat !à offrir à tous les gens intéressés par le regard que porte un psy! vraiment très enrichissant »
@@@@@@@@@@
ACTUALITES DE LA GESTALT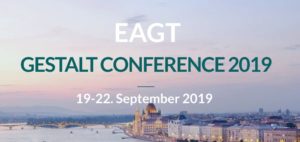 AN EXPERIENTIAL EXPLORATION: THE FERTILE VOID AND CREATIVE INDIFFERENCE
The conference is a unique opportunity for anyone interested in the Gestalt approach to meet in person, to learn with and from each other, and to develop personal and professional relationships. Our intention is that together, we can build bridges and create connections between colleagues: professionals and non-professionals, teachers and students, therapists and organisational practitioners, and also between different perspectives and polarities! Let's spend time together in Budapest experiencing these bridges in a state of creative indifference.
In Budapest we aim to co-create with you a fertile space in which we can all connect, share and explore ourselves and each other and find new possibilities in the flow of our creative energies and in the emergence of new understandings.
 Actualités EAGT
GENERAL FRAMING
The ability to stay in a state of not knowing, and to trust in the flow of life is fundamental to gestalt theory and practice, as is the belief that the creative energy flows from experiencing the emptiness of being, and that new understanding manifests continuously. The fertile void is the undifferentiated field from which everything emerges. Emergent figures take shape and begin to evolve through a dance between the polarities. When balanced, feelings of separation become illusory, and it becomes possible to gain deeper insight into the process of the organism, and for new, previously invisible opportunities to become manifest.
During the conference we would like to give space to explore the fertile void and creative indifference from these perspectives:
Scientific and methodological
Social and political
Existential.
SCIENTIFIC AND METHODOLOGICAL ASPECTS
In 1918, writer and philosopher, Salomo Friedlaender, wrote about the state of creative indifference in consciousness, thereby stimulating the Perls' thinking. According to Friedlaender, creative indifference is the manifestation of consciousness, which does not position itself emotionally or conceptually at either polarity, but holds a balanced zero point, which enables the release of clear forces and energies in the field. There is an opportunity in creative indifference to direct our attention to a more holistic perspective, which exists far beyond the polarity of figure and ground.
The Gestalt therapist's attitude of creative indifference supports the emergence of a fertile void in the therapeutic situation, thereby releasing creative energies, so that new meanings and self-supporting consciousness can emerge.
SOCIAL AND POLITICAL ASPECTS
In current times polar forces appear to be in the ascendance. Societies are becoming more polarized, with extreme positions intensifying, and the imponderable nature of events becoming more prolific. There are no obvious answers. Dualities define our world and opposing poles urge us to make stark choices. What has worked in the past is no longer effective. We do not know what is happening, or what to do. We need courage, faith, deep knowledge and consciousness in order to be able to hold a state of not knowing and sensitisation. Not reacting and not moving does not equate with powerlessness and separation. Not knowing does not indicate a state of cluelessness. Staying in the fertile void with creative indifference allows us to see the polarities, and at the same time liberates us from making habitual or forced choices.
EXISTENTIAL ASPECTS
Sooner or later we all arrive at a period in our private life when there are no clear answers and when the only thing we are aware of is the certainty of our not knowing. This place is the fertile void, which can lead to our greatest personal development. This is a unique opportunity, to reconnect to the deeper meaning of being ourselves without polarising, opposing forces. Here, we may connect with our own core, which can take in all that is, and from which place the creative self without form can emerge.
Enregistrer
Enregistrer
Enregistrer
Enregistrer